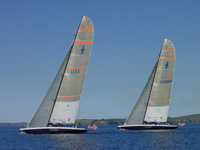 Perrotti Performance Design, LLC has recently completed an exciting collaboration with Team Dennis Conner in their bid to win the 2003 America's Cup. T.J. Perrotti, an accomplished naval architect and former America's Cup designer, served as Performance Manager for Team Dennis Conner and trained with the crew on-site in Auckland, New Zealand.
Perrotti optimized the performance of the team's yachts, USA-66 and USA-77, throughout their two-boat racing campaign. Using state-of-the-art electronic instrumentation and customized computer software, Perrotti monitored dozens of sailing characteristics to identify target, optimal settings that maximized potential boat speed and performance.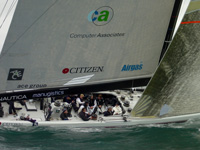 "I'm very pleased to continue my longstanding relationship with Team Dennis Conner," said Perrotti, who had a principal role in the design of Cup contenders Stars&Stripes '92 and Stars&Stripes '95.
"We're very excited to have someone with Perrotti's depth in testing, analysis, and design onboard with our team," said Bill Trenkle, Director of Operations for Team Dennis Conner. "His diverse experience bridges the skills of the team's talented designers and accomplished sailors, and offers a key addition to our campaign in the 2003 America's Cup."
This latest endeavor blends well with our company's ongoing mission to offer innovative technological analysis and affordable design solutions. "We help you find the keys to better performance," said T.J. Perrotti, president and founder.